Houthi attack has killed at least 70 Yemeni soldiers in missile attack on a military base in Yemen's Marib province,security sources says.
No immediate claim of responsibility but Saudi TV blames Houthi rebels for assault involving missiles and drones.
An attack on a military training camp in Yemen's Marib province has killed at least 38 government soldiers and wounded dozens of others, according to security sources.
The assault late on Saturday involved three missiles and the targets included a gathering of government forces and a weaponry warehouse.The death toll is expected to rise.
There was no immediate claim of responsibility but Saudi state television blamed Yemen's Houthi rebels, who are locked in a years-long conflict with government forces backed by a Saudi-UAE-led military coalition.
Read More: Polish senate votes down controversial draft
Al Ekhbariya television quoted sources as saying the assault was carried out with ballistic missiles and drones, killing 60 military personnel and wounding dozens of others.
Separately, a medical source at a Marib city hospital, where casualties were taken, said at least 70 soldiers were killed in the attack.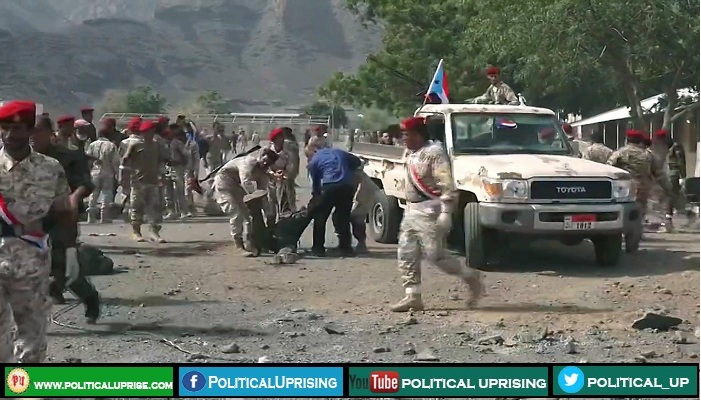 The attack on the military training camp followed an ongoing barrage of assaults by Saudi-backed forces on Houthi targets east of Sanaa.
Those attacks killed at least 22 people on both sides, according to officials.
Yemen has been torn by violence and chaos since 2014 when the Houthis overran much of the country, including Sanaa.
The crisis escalated in March 2015 when the Saudi-UAE-led coalition launched a devastating air campaign aimed at rolling back Houthi territorial gains and restoring Hadi's government, which is now based in the southern port city of Aden.
Read More: Farmers protesters blocked Berlin roads
Hadi condemned the "cowardly and terrorist" attack on Saturday, according to the official news agency. The report did not give a death toll.
"The disgraceful actions of the Houthi militia without a doubt confirm its unwillingness to (achieve) peace, because it knows nothing but death and destruction and is a cheap Iranian tool in the region," news agency quoted Hadi as saying.
Read More: Khalifa Haftar holds meetings in Athens before Berlin peace summit
The five-year war, which the United Nations says has caused the world's worst humanitarian crisis, is estimated to have killed tens of thousands of people and pushed the country to the brink of famine.
Houthi attack has killed dozens of Yemeni soldiers in Marib military camp attack.