Israeli air raids has killed Three adults and 5 children while 12 other Palestinian family members in critical condition.
Hundreds of Palestinians carrying black Islamic Jihad flags gathered at Al-Mujahideen Mosque in central Gaza on Thursday to attend funeral prayers for eight members of the Abu Malhous family.
The eight family members were killed by Israeli air raids in the early hours of Thursday in Deir al-Balah. They were among 34 Palestinians killed by Israeli air raids over the Gaza Strip during two days of cross-border fighting between Israel and the Islamic Jihad.
At least 63 Israelis also received treatment for injuries from rocket fire from Gaza.
Read More: US prepares economic sanctions as Erdogan to meet Trump
Hours before a ceasefire between the two sides was announced on Thursday morning, four Israeli air raids targeted the home of Rasmi Abu Malhous also known as Rasmi al-Sawarka a member of the Islamic Jihad and his brother, Mohamed, a Palestinian Authority (PA) employee in Gaza.
The air raids killed Rasmi, his second wife Maryam, 45, and three of his 11 children Salim, 3, Mohannad, 12, and three-month-old Firas. The bombing also killed Mohamed's wife Yousra, 39, and two of their sons, Moaaz, 7, and Waseem, 13.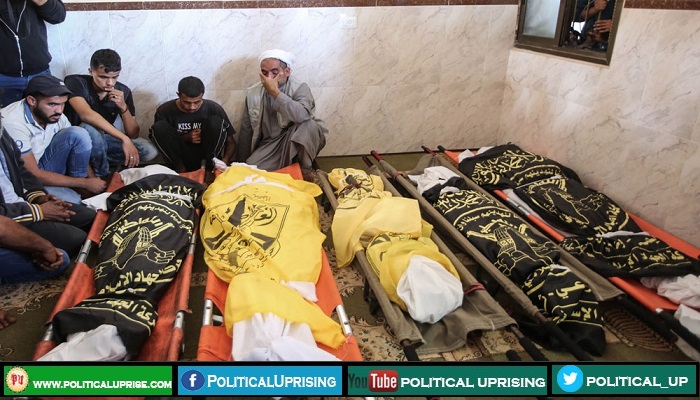 The deadly attack left Mohamed and 11 other members of the Abu Malhous family, mostly children, in critical condition at Shuhhada al-Aqsa Hospital in central Gaza. Eleven-year-old Nermin has been unable to speak since the bombing, while her cousin Reem continues to ask for her dead mother.
Read More: Khashoggi killing was serious mistake said Uber CEO
Rasmi's other wife, Wesam said:"All I remember is the heavy smoke and finding the house had split in two. I started scrambling to find my children and husband, but the smoke was too thick. The next thing I remember is waking up in a hospital to find six of my children in critical condition,"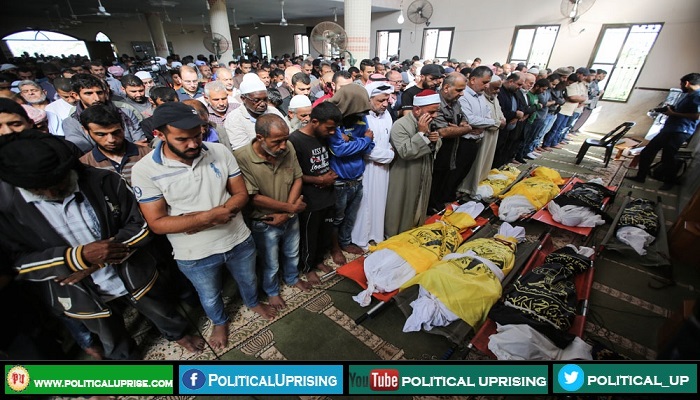 Israeli military spokesman Avikhai Adraei confirmed in a tweet that the Abu Malhous family home was targeted.
"Rasmi Abu Malhous, leader of Islamic Jihad and the commander of the rocket unit in the central Gaza brigade, was the target of last night in the raid on Deir al-Balah."
Twelve-year-old Noor recounted the incident, said that a sleepless night saved her life.
"I hadn't been able to sleep that night because of the sound of the drones buzzing in the sky above us. When the first rocket fell next to the house, I ran outside. But I was too scared for my life to manage to wake anyone else up.
Read More: Socialists to make new government in Spain
"When I gathered enough courage to return, the whole house had become rubble. I could see my mother [Yosra] under it and my dad's head split and bleeding. But I couldn't save them.
"I ran to my grandmother's house nearby before returning again with some relatives to help rescue my family," said Noor who was unaware her mother had died.
Israeli police are involved in killing of thousands of innocent unarmed Palestinian.