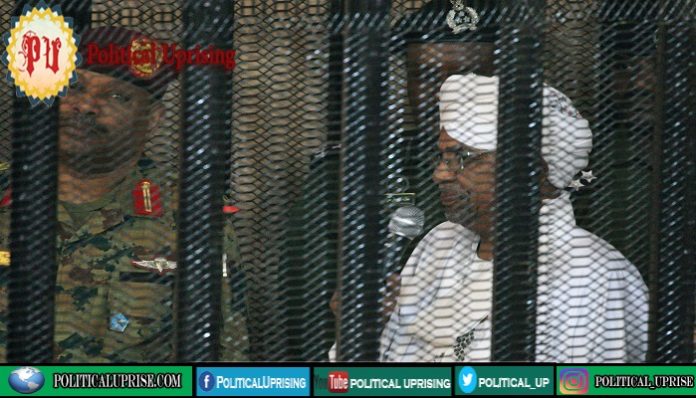 Sudan's authorities and rebel groups have agreed that those wanted by the ICC for crimes in the region should appear before the tribunal.

Announcement comes as Sudan's transitional authorities and Darfur rebel groups hold talks in Juba.
The announcement was made on Tuesday in Juba, the capital of neighbouring South Sudan, where the two sides are engaged in peace talks.
"We can only achieve justice if we heal the wounds and we cannot escape from facing these without the appearance of those against whom arrest warrants were issued by the International Criminal Court," Mohamed Hassan al-Taishi, a member of Sudan's sovereign council, told reporters.
Read More:Netanyahu-Burhan meeting exposes divides in Sudan
Former president Omar al-Bashir, who was overthrown after mass protests last year, is wanted by the ICC, but his name was not mentioned in the statement.
Al-Bashir, who had seized power in a 1989 coup, was sentenced in December by a court in Khartoum to two years' detention in a correctional centre for corruption in the first of several cases against him.
The government and rebels in late January agreed to establish a special court to prosecute those accused of carrying out war crimes and crimes against humanity in Darfur. Al-Taishi said he expected the joint committee tasked with drafting the tribunal's provisions to soon finish its work.
Sudan's transitional government has pledged to establish peace in conflict-hit regions, including Darfur, and has restarted talks with rebel groups.
Conflict spread in Darfur in 2003 after mostly non-Arab rebels rose up against Khartoum.
Government forces and mainly Arab militias mobilised to suppress the revolt were accused of widespread atrocities.
An estimated 300,000 people were killed and 2.7 million driven from their homes.
West Darfur had been largely calm since 2010, though there have been occasional skirmishes over the past three years.
Violence in the West Darfur region in January has killed at least 65 people and wounded more than 50, as well as displacing thousands, according to an international peacekeeping mission.
Read More:Amnesty urges Sudan deliver on protesters demands
Following the announcement, one of al-Bashir's lawyers was quoted as saying by news agency that the 76-year-old refuses to deal with the international tribunal which he denounced as a "political court".
The Hague-based ICC opened its investigation into Darfur in June 2005, following a referral to the court by the United Nations Security Council.
It issued arrest warrants for Bashir in 2009 and 2010 over his alleged role in war crimes including genocide in Darfur province, which he denies.
Along with al-Bashir, the ICC indicted two other senior officials: Abdelrahim Mohamed Hussein, who was interior and defence minister during much of the conflict, and Ahmed Haroun, a senior security chief at the time who last month was named by al-Bashir to run the ruling National Congress Party.
Sudan, rebel groups agree on prosecution of those wanted by International Criminal Court.